Toyotomi Cooling
As of 1990 Toyotomi introduced their first mobile air conditioner model TAD 1800 which became an instant success. Since then, Toyotomi has continued to innovate and develop a wide range of cooling products to meet the needs of both residential and commercial settings. Explore our diverse selection of cooling solutions designed to provide optimal comfort and efficiency.
Toyotomi, more than 35 years experience in developing and producing air conditioning systems.
Our brand is synonymous with reliability, quality, and a commitment to creating a better environment for consumers. We take pride in offering high-performance products that deliver perfect, efficient, and environmentally friendly heating and cooling solutions. Trust Toyotomi for exceptional air conditioning experiences.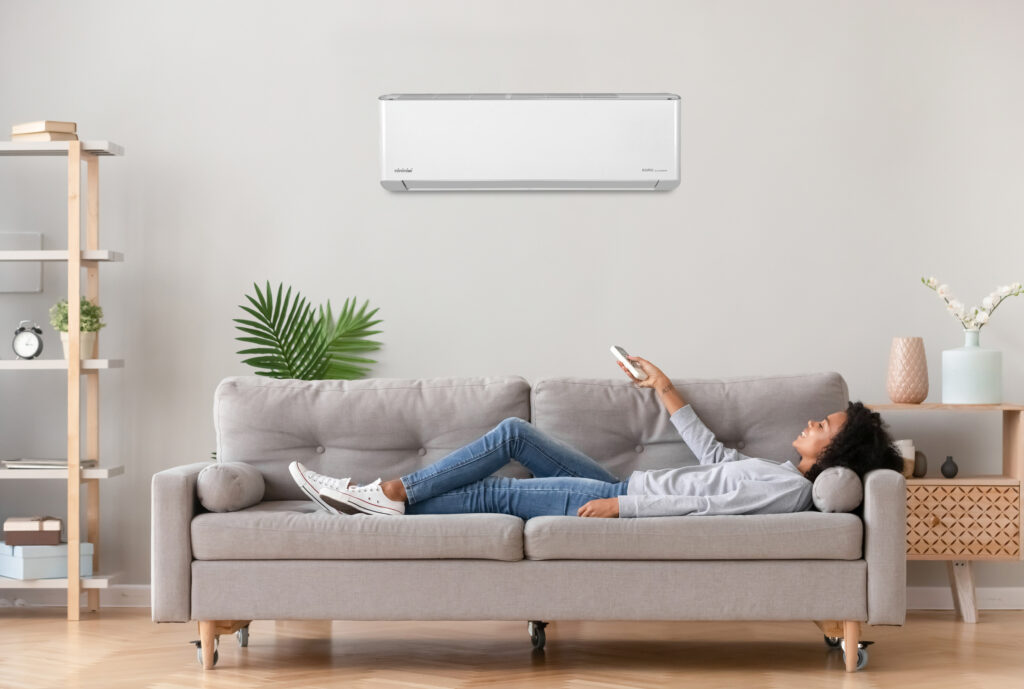 Energy efficiency
Toyotomi air conditioners incorporate advanced technology that meets the highest energy-saving standards, delivering exceptional performance while minimizing energy consumption. With DC Inverter technology, you can achieve energy savings of up to 45%, providing a more efficient and eco-friendly cooling solution. Experience superior comfort while reducing your environmental footprint with Toyotomi energy-saving air conditioners.
All DC Inverter
Experience unmatched energy efficiency with our All DC Inverter air conditioners. Compared to other models, our air conditioners boast significantly lower energy consumption. With cutting-edge compressor technology, advanced DC Inverter control electronics, and new DC Inverter fan motors on both indoor and outdoor units, our air conditioners operate seamlessly and continuously while consuming the least amount of energy. Enjoy optimal cooling performance while minimizing your energy usage with our All DC Inverter air conditioners.
Energy efficiency class
At Toyotomi, our goal is to utilize our expertise and advanced technology to achieve exceptional performance in SEER/SCOP coefficients, which determine the high energy efficiency class of our units. A high energy efficiency class signifies superior construction quality, enhanced air conditioner performance, and significant energy savings, all while promoting environmental protection. Rely on Toyotomi for energy-efficient solutions that prioritize both performance and sustainability.
Our vision
Driven by our vision, we have adopted a strategy to manufacture high-tech products that offer the best possible quality/price ratio. Our goal is to establish a lasting relationship of trust with our customers, while always prioritizing environmental protection and enhancing living standards. We are committed to delivering innovative solutions that balance state-of-the-art technology, affordability, and sustainable practices. Count on us to bring you products that exceed expectations and contribute to a better future for all.
Our commitment to quality
Drawing inspiration from the Japanese automotive industry, Toyotomi upholds a rigorous quality control system that continuously evolves across all our product ranges. As a responsible company, we prioritize environmental sustainability and energy conservation by adhering to Eco Design (ErP) regulations. In line with these principles, we integrated R-32 refrigerants into our product ranges. This new generation of refrigerants is not only eco-friendly, non-toxic, and safe, but also easily recyclable. By incorporating these refrigerants, we enhance performance levels and extend the lifecycle of our products, ensuring a sustainable future for generations to come.
Learn more
To explore further details about our comprehensive range of air conditioning solutions, including residential, multi-split, and commercial series, we invite you to download our AC catalogue for 2022. This catalogue provides comprehensive information about our products, specifications, and features.
Simply click here to access the catalogue and delve into the world of Toyotomi air conditioning.