Toyotomi Premium Heating Liquids
Experience the pinnacle of heating fuel technology with Toyotomi brand liquid fuels. Specifically tailored for paraffin heaters, our fuels embody the latest advancements in the industry. We offer a selection of five meticulously crafted formulas, each engineered to optimize the performance of our outstanding heaters.
Fuel perfection: crafted by the heater manufacturer
Our fuels go beyond conventional options, delivering unparalleled efficiency and reliability. Designed to ignite quickly and burn evenly, they provide exceptional heat output and maximize burn time. With minimal emissions, our fuels prioritize both comfort and environmental responsibility.
For your convenience, Toyotomi fuels are packaged in practical cans made from lightweight, recyclable PET materials. These cans are not only easy to handle but also contribute to our commitment to sustainability.
Elevate your heating experience with Toyotomi brand liquid fuels. Discover the perfect combination of cutting-edge technology, enhanced performance, and eco-conscious packaging. Trust in our fuels to deliver the utmost comfort and efficiency for your paraffin heaters.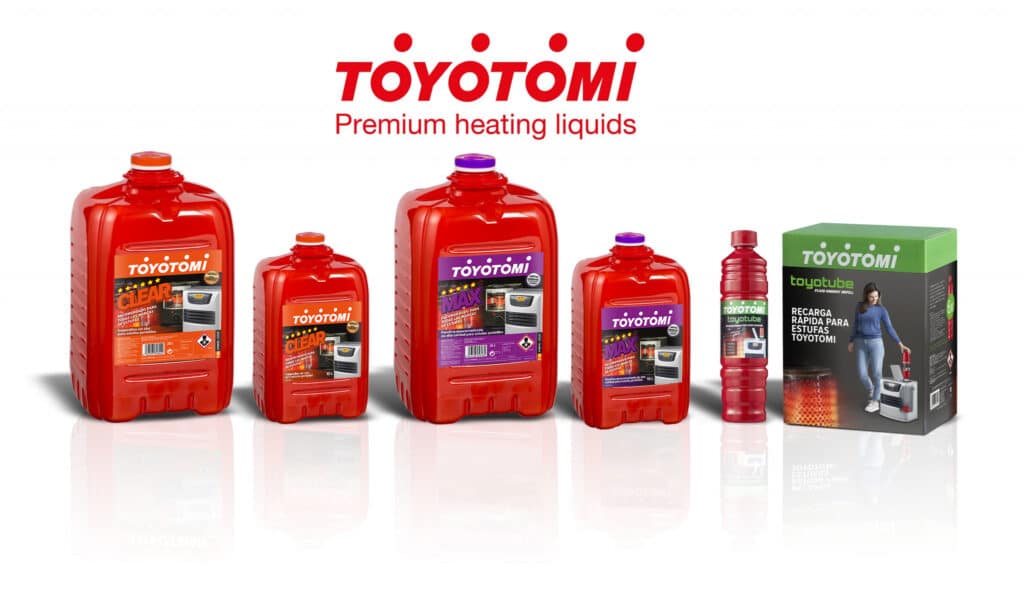 About Toyotomi Premium Heating Liquids
With over 75 years of experience as the world's leading manufacturer of paraffin heaters, Toyotomi Co. Ltd has acquired extensive expertise in providing accurately specified fuel for its heaters. This knowledge has led to the development of five distinct formulas: Toyotomi Plus, Toyotomi Power, Toyotomi Max, Toyotomi Prime, and Toyotomi Clear.
Our Toyotomi premium liquid fuel adheres to strict European regulations, including the French Arrêté 25-06-2010 and DIN 51603-1 standards. This compliance ensures that our fuel meets the warranty requirements set by other manufacturers of mobile paraffin heaters.
Advantages of Toyotomi Heating Liquids
Suitable for all brands of mobile paraffin heaters.
Clean and safe, ensuring a longer lifespan of the heater.
Minimal aromatic content and odor levels, both during ignition and extinguishing according to the different formula's.
Virtually sulphur-free, reduced emission of harmful substances.
High flash point > 62° C, not subject to the International Dangerous Goods Transportation regulation.
Packed in lightweight recyclable PET can, equipped with child safety cap.
Products in compliance with local standards (NF 128 / Arête 25-6-2010).
Toyotomi loyalty points program
Toyotomi liquid fuel is associated with a loyalty points program depending on the different markets where it is sold. Collect your loyalty points and discover how you can extend the guarantee of your heater up to 10 years.
Don't forget to use the standard manual syphon pump, or for more convenience you can use the battery-operated fuel syphon pump.
Our dedicated filling partners:
We carefully selected our contract filling partners for our Toyotomi brand fuels, taking into account their proximity to our main markets to minimize the shipping cost involved. Our priority is to ensure the highest level of quality and efficiency throughout the production process.
To achieve this, we collaborate with fully automated fillers that specialize not only in filling but also in blowing our PET packaging with high precision. These partners adhere to stringent good manufacturing practices, providing us with the assurance that they have established robust quality control measures. Multiple checks are implemented at various stages of production to maintain the desired standards.
Timely delivery of the finished products is crucial to us. Our partners are responsible for blowing, filling, packing and batching the products according to Toyotomi's specifications. Throughout the production, Toyotomi oversees the procurement of fuel in bulk and all the necessary components required to manufacture the lightweight 20 L PET cans.
By working closely with our chosen filling partners, we strive to uphold the excellence and reliability that define the Toyotomi brand.